4 LSAC members rebooted the dive season after the Corona virus lockdown. Each travelling in their own cars they met up at Horstead ready to wash the dust and cobwebs off the dive kit.
2 cars parked on the verge close to the steps into the water, the other two vehicles made use of the car park.
The weather was a lot cooler than it had been for the previous few days, mostly overcast with sunny spells and 14 degrees C, which also meant that the site was not too busy.
Horstead Mill pool is a popular site for kayaking, paddleboarding, open water swimming and angling. The current is strong below the sluice and it is very shallow around the edges. There are several entry and exit points and the site has a variety of freshwater fish.
We decided to make good use of our time underwater by doing an underwater litter pick.
Dive 1:
Divers: Simon, Paul
Max Depth: 3.2
Dive Time: 66
Water temperature: 16C
Viz: 1-2m
Dive Details: Our cars were parked by the side of the road very close to some steps leading into the water. We completed our buddy checks 2 metres apart, entered the water and walked out until it was deep enough to put our fins on. We were using a Surface Marker Buoy to let the other water users know that we could be below them and so that Jane (our surface cover) could also keep an eye on us. We saw a lot of perch, some were quite big too, some eels, crayfish and a pike. We collected a fair amount of rubbish too such as old beer cans, a flip flop, a welly boot and some bottles.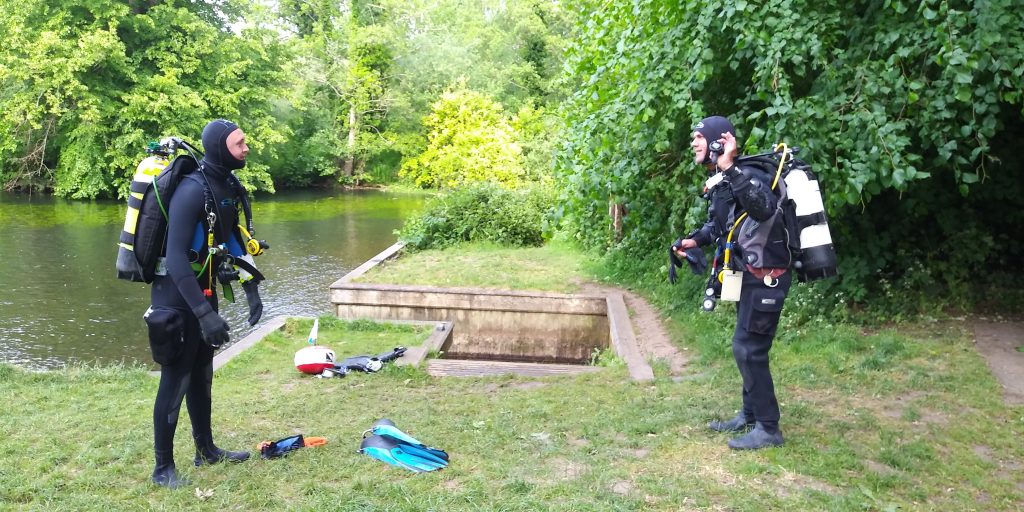 Dive 1:
Divers: Nigel, Dominic
Max Depth: 3.5
Dive Time: 58 mins
Water temperature: 15C
Viz: 1-2m
Dive Details: Entered the water near the bridge, seemed to go against the current but you would of thought otherwise!!! Headed across and headed back towards the bridge on the other side. Here Dominic and myself saw a fairly large slender pike. Carried on through a shoal of perch whilst carrying out litter pick. Came across a large eel amongst the rocks. Headed towards fast river flow , struggled with the SMB then a kayak took it down flow. Lost my buddy for a while. Dominic found 2 signal crayfish. We saw more large perch and 2 eels. Exited the water.