Open water training for Ocean Diver trainees Julie and Claire. Instructed by Simon and assisted by Jane. The weather wasn't very good, dull and raining most of the day but that didn't seem to put anyone off and the students remained enthusiastic.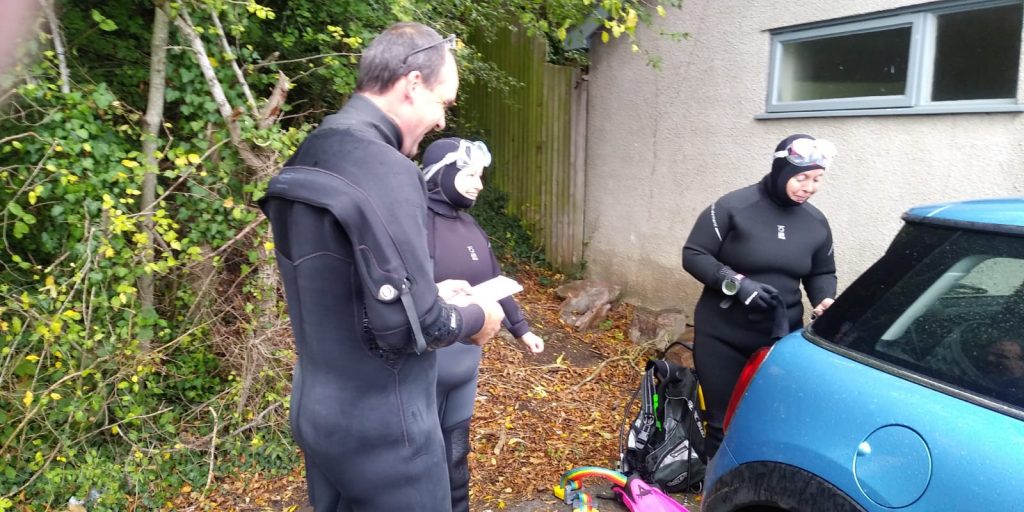 Divers: Simon, Claire, Jane, Julie
Max Depth: 6 metres
Dive Time: 43 minutes
Water temperature: 13 degrees C
Viz: 3-5 metres
Dive Details: The weather was rainy, but it wasn't too cold as we kitted up in the car park. Changing rooms were closed for Covid-19 reasons. After buddy checks and pre dive planning, Julie and Jane entered the water by striding in from the quayside, whilst Claire and Simon entered by the slope into shallower water so that Claire could test her weighting. We descended as two pairs down to the training platform at around 5m, where Simon carried out Ocean Diver Open Water training sessions with Claire, then Julie. Jane was on camera duty. We had a swim around the Nautilus and saw some crayfish, we looked in the arch and saw and many small perch and roach. We returned to the platform so that Simon could do some more training with Claire. Claire had issues with her weight belt that had become loose, so this had to be sorted out on the platform. Rather than watching the mask clearing exercises and get cold Jane and Julie went for a little swim around the platform, Jane found a pint glass under the platform. We returned to quayside, Simon and Claire did a weight belt jettison exercise at the slope and got out there, while Jane and Julie used the concrete steps as their exit point.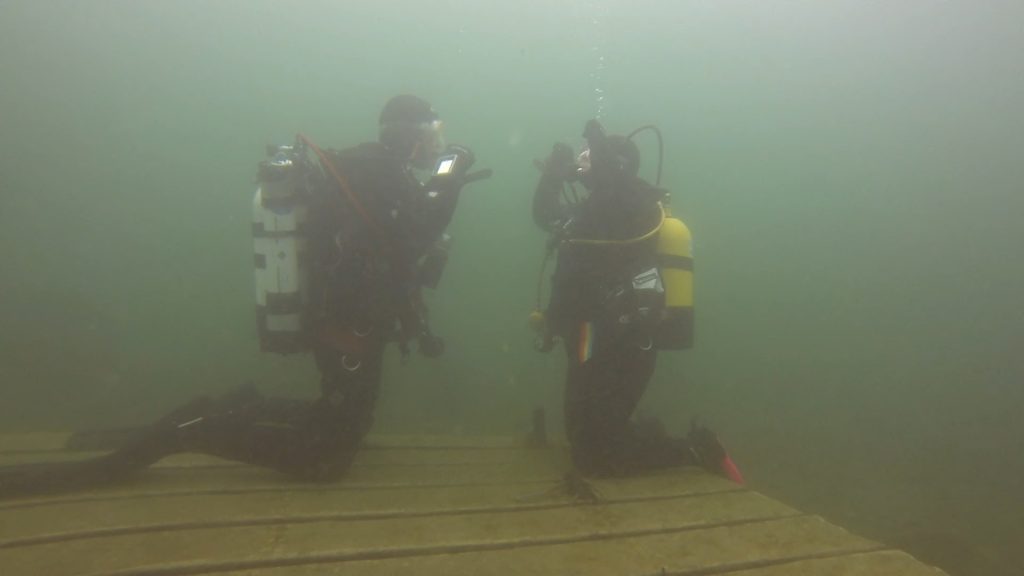 Divers: Simon, Julie
Max Depth: 9.6 metres
Dive Time: 32 minutes
Water temperature: 13 degrees C
Viz: 3-5 metres
Dive Details: After a tea brief, lunch and surface interval, we all went in for dive 2 of the day, entering the water as before. Again, more open water lessons from Simon. Unfortunately, Claire began to feel unwell, so Jane got out to look after Claire, and Simon continued Julie's open water training. We completed the alternate source ascent exercises and mask clearing at the platform then went for a dive to the viscount aircraft cockpit. We swam through the large opening on the side of the cockpit and out towards the back. The cockpit rests on the top of the roadway that leads down to the deeper parts of Stoney Cove, we then descended down the roadway to 9.6 metres so that Julie could progress her depth experience. The next part of the lesson required us to do a vertical ascent to 6 metres, conducting a safety stop then continuing to the surface. Once on the surface Julie did the last part of the lesson which involved demand valve and snorkel exchanges while surface swimming back to the exit point.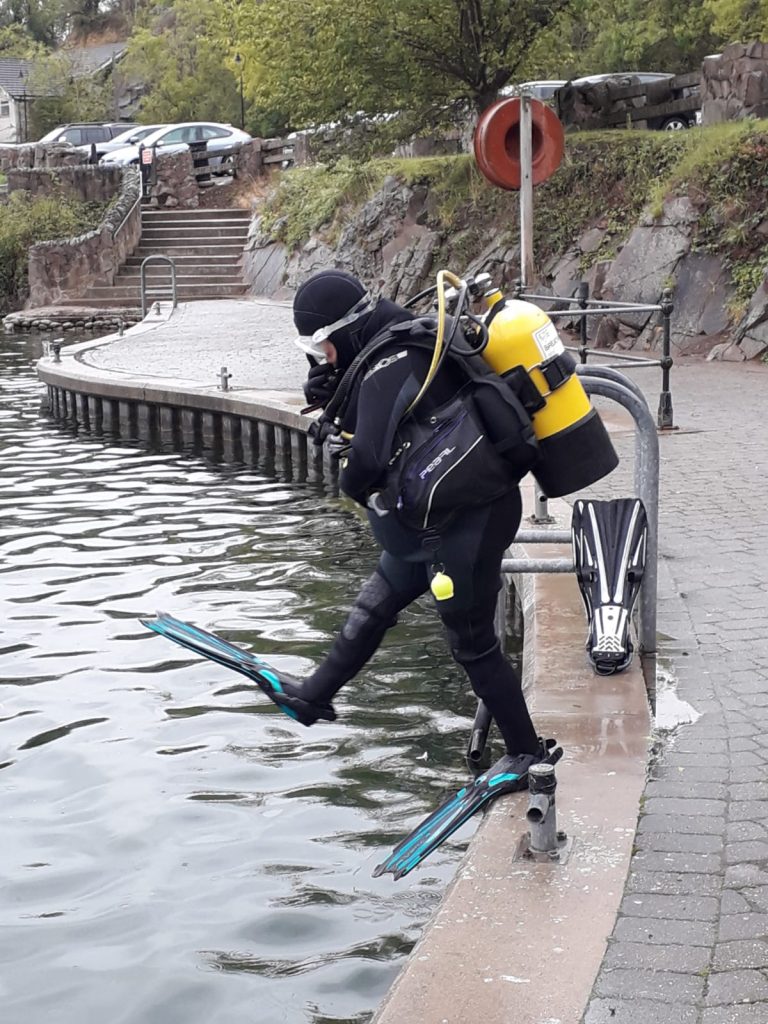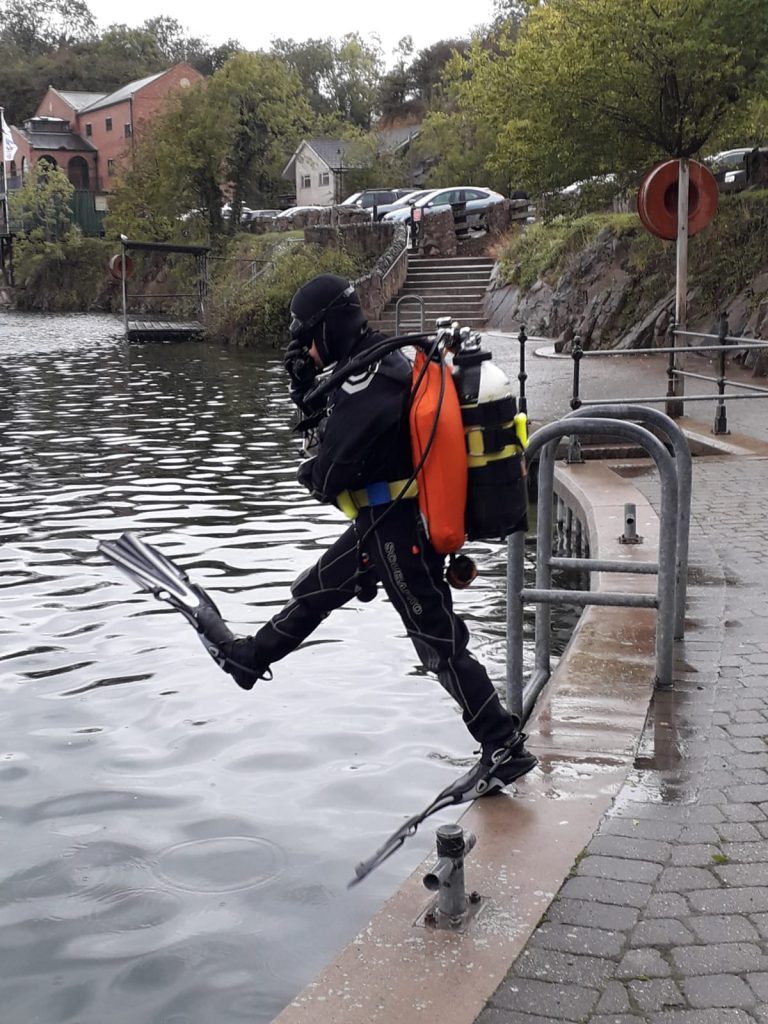 Divers: Simon, Julie, Jane
Max Depth: 16.2 metres
Dive Time: 30 minutes
Water temperature: 13 degrees C
Viz: 3-5 metres
Dive Details: After a surface interval and dive brief, Simon and Julie entered the water by stride in and descended for more OW training. From the platform, Simon and Julie did controlled buoyant lift exercises then Julie towed Simon on the surface for about 12 metres. Jane joined us at the surface and we all descended together down a shot line to about 5 metres. Simon led the way following the narrow ledge at 6 metres heading towards the Gresham ship. We saw a large carp before we passed the blockhouse which had been decorated with some vases on the window ledge. We arrived at the large anchor of Elizabethan wreck and swam passed the wooden wreckage to the cliff edge. We then descended to the part where the underwater cliff edge suddenly drops off into what looked like an abyss. Simon signalled to see if Julie was happy to descend to 15 metres. Although the drop looked daunting and Julie had a moment of apprehension, she signalled ok and decided to be brave. We descended to 15 metres, and Simon & Jane stopped easily. Julie, however, had neutral buoyancy issues again (trainee) and dropped to 16.2 metres before stopping. The accidental drop alarmed Julie, so she held on to the slope until she regained her composure. This action accidentally disturbed the slope and reduced the viz, but Simon and Jane came closer and gave reassurance. We began a slow ascent up the wall and swam over the Gresham wreck heading back, spotting a few crayfish. We followed the cliff edge back towards the pub and surfaced close to where we descended the shot line and swam on the surface back to slipway.

NB: Julie has previously watched the movie The Abyss where the main actor drops too deep into a ravine to retrieve some equipment, becoming less cognisant and going past the point of no return until they lose contact with him. This is what went through her mind as she dropped down past Simon and Jane by herself. She thought too that she had read about Stoney Cove going down to 35 metres in one part (for more experienced divers) and began to panic a little whilst desperately trying to regain buoyancy. She successfully stopped at 16.2 metres. Had she thought logically about it, she would have realised that Simon would never have put her, a trainee, into a position whereby she might be able drop to 35 metres in an uncontrolled panic. However, no logic was available in her brain as she dropped, and so she didn't think of this until afterwards on the way home. Julie then had a stern word with herself and told herself not to be such a twit. She must also practice neutral buoyancy at greater depths.