After taking the GPS home and linking to his pc, James wanted to investigate the wreck of the Fulgens. We appeared to have three different locations for it.
We went to the first mark on the GPS for the Fulgens and didn't see any signs on the echo sounder to indicate a wreck below. We headed to the second one and this one showed a more promising sign. We dropped the grapple and the first pair of divers kitted up.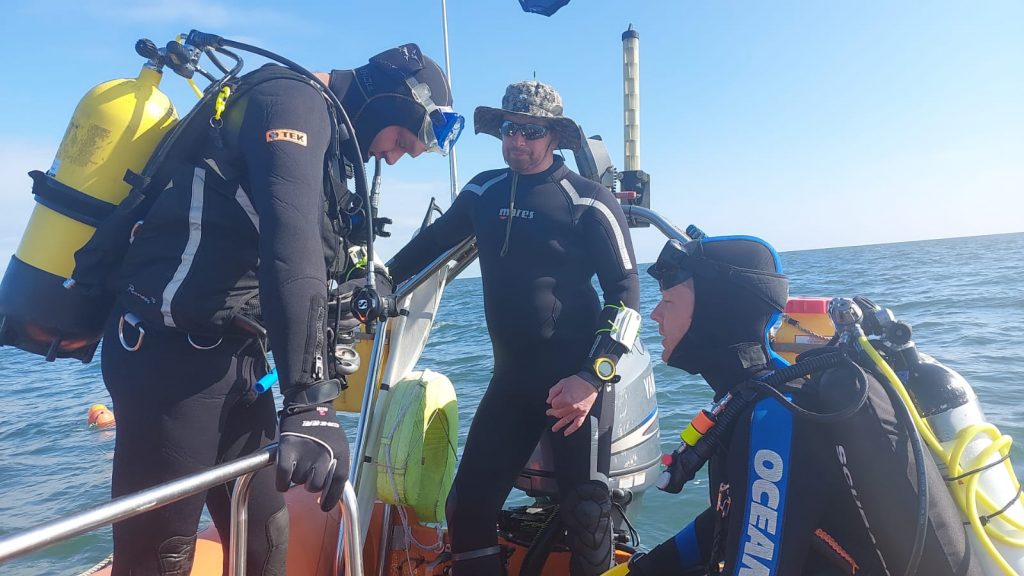 Divers: James, Jason
Max Depth: 17 metres
Dive Time: 29 minutes
Water temperature: 17 degrees C
Viz: 4 metres
Dive details: We did a dive. It was good. I like diving. I will do another.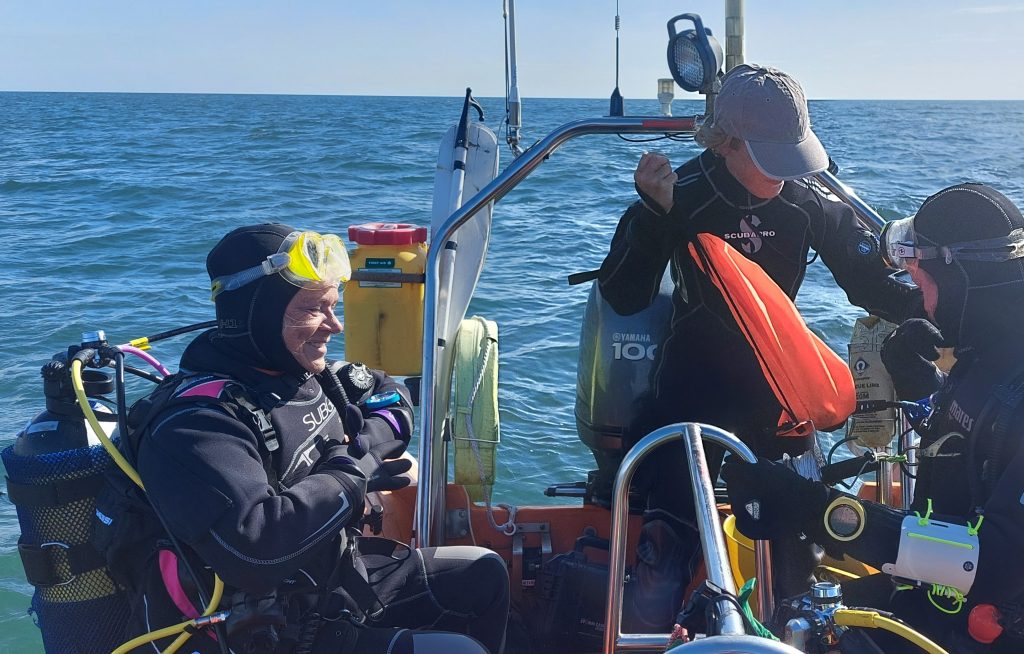 Divers: Nigel, Elaine
Max Depth: 17.3 metres
Dive Time: 37 minutes
Water temperature: 17 degrees C
Viz: 3-4 metres
Dive details from Elaine: I dived with Nige- Temp 17degree, viz rubbish…. Oh no sorry it wasn't too bad 🤣3-4m. Descended the shot to the wreck at around 16m where we saw lots of excess thick rope and mangled metal of the hull. It was really hard to make out distinct areas of the wreck but we found a long cylinder type open ended pipe about 24inch diameter to look through. Many sponges and possibly one of the new purple sea sponges found off the Norfolk coastline and lovely anemones which are beautiful colours once the torch lit them up. Numerous purple daliah anemone and also many of the common sun starfish. We also saw some large open holed rectangle boxes stacked side by side clearly were carried on the wreck . Shoals of small silver type fish and a number of Bib.
Dive details from Nigel: We were the second wave of divers. I lead the dive. Descended the grapple line and reeled off my distance line. The wreck was very broken up and the current built up as the dive went on. There were wires and ropes dangling so care was taken to avoid these. There was a large shoal of bid. Commom sunstars, common starfish and several dahlia anenomes. There was also a large tube with dead mens fingers on the upper surface. On ascending we passed the third wave of divers, Simon and Jane. After a 3 minute safety stop we surfaced.
Divers: Simon, Jane
Max Depth: 18.1 metres
Dive Time: 21 minutes
Water temperature: 17 degrees C
Viz: 3-4 metres
Dive details: This dive was on, then it was off, then it was on again. Initially we were going to be the third pair of divers, planning to enter the water only after the first pair had returned to Lowestoft Diver. After the second pair were safely on their way, we began to prepare our kit, only to find that Simon's 'o' ring in his cylinder valve needed replacing. With his spares box safely stowed in the car, and his being the only 'A' clamp valve on the boat at the time, it could not be replaced, so we revised the plan and decided to abort . . . until we remembered that the grapple would need turning. James offered his twinset to Simon, and the dive was back on. Our mission was simply to turn the grapple and move it away from the wreck and return. By this time, the tide was running. It was a struggle to reach the shotline. After taking a breather, we descended. We were close to the wreck when we met Nigel and Elaine, who had just begun their return. We continued to the grapple and signalled to each other that we needed to wait 5 minutes to allow Nigel and Elaine to ascend and do their safety stop before moving the grapple, so we tied on my dsmb reel to the shotline and went on a mini exploration. It was dark but not so dark that we needed torches. We came across a large boiler and saw a huge wrasse of some variety and some Bib. The tide was running, and it was good to have the security of the reel line. On our return to the grapple, we disconnected my reel, and while I held firmly onto the shotline, Simon released and turned the grapple, lifting it to move it away from the wreckage. At this point we were on a drift! The tide was taking us at quite a speed! Simon released the grapple and we ascended the shot, and returned safely to the RIB