An early dive before breakfast off the beach at Chesil.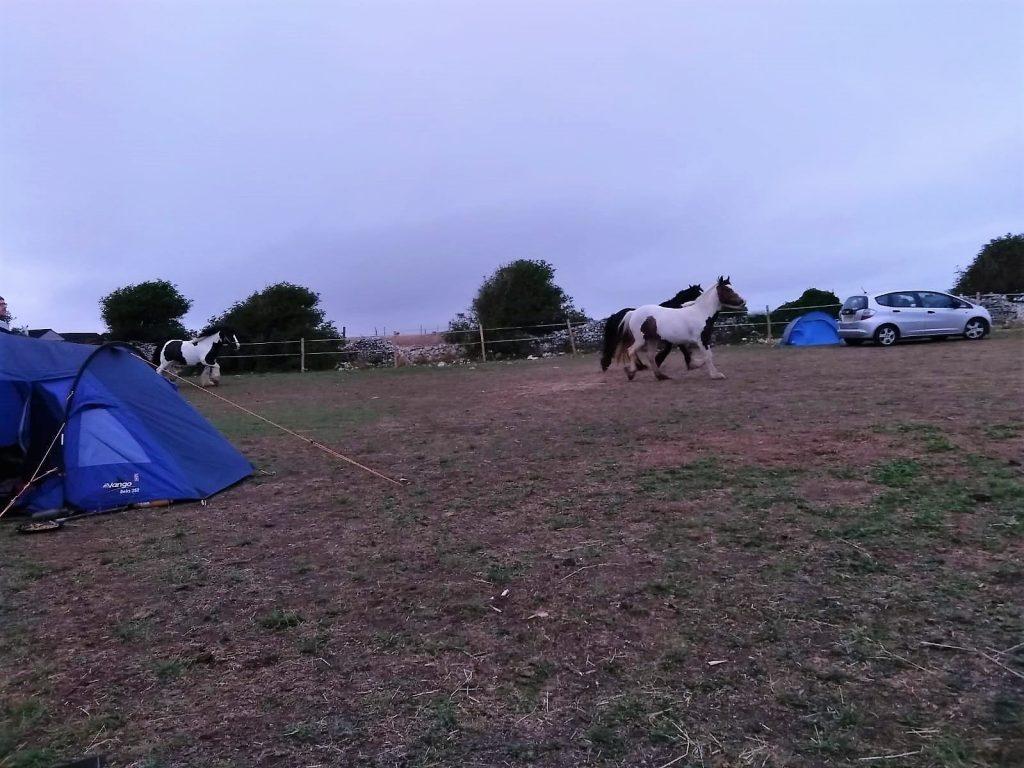 I woke up early and noticed the wind had dropped so suggested that we go diving before breakfast just in case the weather got worse. A short while later 3 horses entered the field we were camping in, which was a surprise. James was first to arrive to check on the conditions, there were waves breaking on the stones but it looked safe enough to enter and exit the water. James had parked in one of the parking bays in Brandy Row, it was too tight for him to open his car doors so when I arrived he reversed out, let me have the spot and parked further down the road at the free car park and the bottom of the road. Paul unloaded his kit at the sea wall before driving off to look for a parking space. I was almost kitted up and ready when I started to doubt if anyone else was going diving, maybe they were playing a practical joke on me? Letting me get put on my cold wet dive gear while they were back at the campsite cooking breakfast. Then I saw James walking up the road with his dive kit on, so that was a relief. We both walked up to the sea wall and down the slope to the stoney beach. We were waiting for Paul to arrive so I started to fill in the dive management sheet to save a bit of time as the wind seem to be getting stronger. That's when James noticed that he didn't have enough charge in his dive computer. Paul arrived and they both went back to James's car to sort the problem. They eventually returned, shortly followed by Sara, who had been for a walk and had expected us to be nearly out of the water. Nearly 3 hours after I woke up, we were ready to dive, not quite the quick dive before breakfast I had in mind.
Divers: Simon, Paul, James
Max Depth: 17.7
Dive Time: 57
Water temperature: 15 degrees C
Viz: metres 3-4 metres
Dive Details: After completing our buddy checks against the sea wall and leaving Sara on the beach as shore cover we walked across the large pebbled beach to the shore. Paul suggested that we swim out on the surface and drop down to the deeper water then continue heading out for 20-25 minutes before turning around and making our back to shore underwater. We descended to 11 metres and headed off in a Westerly direction eventually reaching just over 17 metres. The visibility was OK but not brilliant, probably due to the Westerly winds. After about 15 minutes my computer was giving me some strange air information and I thought the battery might be low on the integrated air unit. But when I looked at my gauge the needle was fluctuating so I alerted Paul and got him to check my air was fully turned on. After he had finished laughing, the problem was resolved and we carried on. I thought there were less fish about this year than last year, we didn't see any cuttlefish or John Dory but we did see a dover sole hiding in the sand, a large dogfish, tompot blenny, wrasse, crabs and much more. We turned around and headed East and walked out up the beach, back to the campsite for a much needed cup of tea and breakfast.